Ashopton was a small village in the vale of the River Ashop. In the early 1940s, the village (along with neighbouring Derwent village) was demolished to make way for the filling of Ladybower Reservoir.
The village was in the chapelry of Derwent. In 1829, Stephen Glover wrote that the village hosted a wool fair on 29 July; he suggested that this was intended to be a tradition continued annually on the last Wednesday of July.
The village was located near where the Derwent Valley joins the Snake Valley, (route of the current A57 Snake Pass to Glossop). The only reminder of the village is in the name of the Ashopton Viaduct which carries the A57 across the mouth of the Derwent Valley. The main part of the village was located immediately to the south of the viaduct. Unlike the remains of Derwent Village which have become visible when water levels have dropped, Ashopton will never re-emerge from the waters of Ladybower as silt has already covered the remains of its buildings.
A key part of the village was the Methodist Chapel, built in 1840. The final service was held at the chapel on 25 September 1939.The final hymn sung was The Day's Dying in the West. The chapel was finally demolished, along with the remaining buildings in the village, in 1943.
There is a description of the area on the reverse of one card which says –
"ASHOPTON is one of the most popular localities in
the neighbourhood of Sheffield. The scenery here is of
a beautiful and varied character, and to add to its natural
charms, the waters of the Derwent, which are here joined
by the River Ashop, afford splendid sport to the disciples
of Izaac Walton, the Derwent being one of the finest
trout streams in the kingdom."
---
Entrance to Wyming Brook from Ashopton Road
Publisher: unknown | Serial#: 2536 | Postmark: postally unused
---
River Derwent at Ashopton
Publisher: Scott Russell Series | Serial#: 795 | Postmark: Apr 14 1906
---
Ashopton village and River
Publisher: Real Photo postcard | Serial#: none | Postmark: postally unused
---
Ashopton street scene
Publisher: GWW | Serial#: none | Postmark: Aug 4th 1904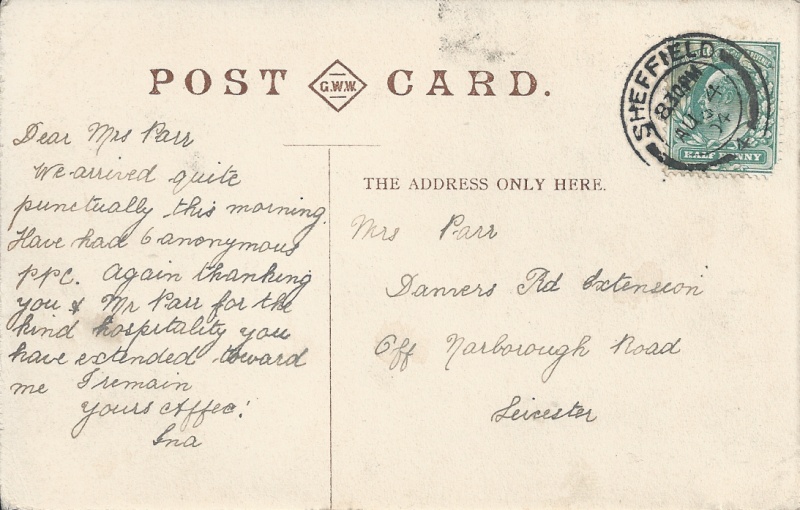 ---
Ashopton Inn
Publisher: Raphael Tuck | Serial#: ASHN 16 | Postmark: postally unused
---
Ashopton near Sheffield
Publisher: Raphael Tuck & Sons Ltd | Serial#: 1306 | Postmark: postally unused
The description on the back of this card is interesting –
"ASHOPTON is one of the most popular localities in
the neighbourhood of Sheffield. The scenery here is of
a beautiful and varied character, and to add to its natural
charms, the waters of the Derwent, which are here joined
by the River Ashop, afford splendid sport to the disciples
of Izaac Walton, the Derwent being one of the finest
trout streams in the kingdom."
---
The Derwent near Ashopton
Publisher: Bernard P Hall & Co | Serial#: 309 | Postmark: 15th Apr 1909
---