BAKEWELL
Bakewell Holme footbridge

---
Holme Foot-Bridge by Sneath

---
Holme foot bridge. Postmark: Nov 1 1906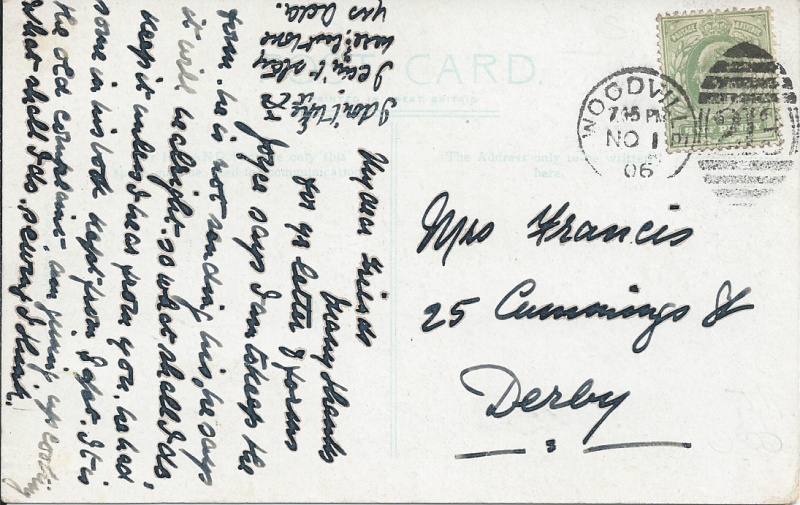 ---
Rutland Square by Valentine
---
The Square – Lilywhite

---
Runic cross at All Saints Church

from Derbyshire Heritage – This ornate Runic Cross is one of two ninth century Saxon crosses in All Saints churchyard and stands in an enclosure near the south transept – the second one is known as Beeley cross.
It is almost complete and the largest of the two. The carving includes scroll work, an animal which appears to have something between its paws and horse and rider.
---
from Wikipedia
Bakewell is a small market town and civil parish in the Derbyshire Dales district of Derbyshire, England, well known for the local confection Bakewell pudding. It is located on the River Wye, about thirteen miles (21 km) southwest of Sheffield.  The town is close to the tourist attractions of Chatsworth House and Haddon Hall.
Although there is evidence of earlier settlements in the area, Bakewell itself was probably founded in Anglo Saxon times, when it was in the Anglian kingdom of Mercia. The name Bakewell means a spring or stream of a man named Badeca (or Beadeca) and derives from this personal name plus the Old English wella. In 949 it was Badecanwelle and in the 11th century Domesday Book it was Badequelle. Bakewell Parish Church, a Grade I listed building, was founded in 920 and has a 9th century cross in the churchyard. The present church was constructed in the 12th and 13th centuries but was virtually rebuilt in the 1840s by William Flockton. By Norman times Bakewell had gained some importance: the town and its church (having two priests) being mentioned in the Domesday Book and a motte and bailey castle was constructed in the 12th century.
A market was established in 1254, and Bakewell developed as a trading centre. The Grade I listed five-arched bridge over the River Wye was constructed in the 13th century, and is one of the few surviving remnants of this earlier period. A chalybeate spring was discovered, and a bath house built in 1697. This led to an 18th century bid to develop Bakewell as a spa town, in the manner of Buxton. The construction of the Lumford Mill by Richard Arkwright in 1777 was followed by the rebuilding of much of the town in the 19th century.
---